Proven to Provide Support
In recent years, peer-reviewed veterinary studies have frequently been appearing regarding the
use of essential oils and their use on the equine population, which is very exciting! Aromatherapy
and oils for reducing stress, increasing focus and decreasing pain are being critically reviewed to
understand the benefits for horses. This article explores some recent studies and suggestions on
how to begin using the natural healing of essential oils to benefit your horses.
Specific Oils Proven to Work for Horses
In the study, "Effect of Aromatherapy on Equine Heart Rate Variability," researchers tested
lavender and chamomile to decrease heart rate in eight dressage horses. The group used a control
of humidified air. Dressage horses are sensitive to environmental changes and can be affected
during competition. During the test, heart rate variability was recorded before, during and after
each lavender treatment and then again 30 minutes afterward. Camomile was tested using the
same process. The researchers found that lavender has a measurable parasympathetic change and
reduced heart rate variability immediately after treatment. Chamomile use does not offer any
measured improvement. The result of the study does indicate that lavender is a proven calming
agent for horses. Download the full article from Science Direct.
A Spanish study, "Essential Oils in the Control of Infections by Staphylococcus xylosus in
Horses," 2014, tested nine essential oils (cinnamon, palmarosa, two types of cloves, naiouli,
peppermint, oregano, rosemary, and sauce thyme) to look at the antimicrobial effect
against Staphylocccus xylosus isolates. The S. xylosus bacteria is associated with kidney
inflammation (UTIs) in humans and is typically treated with a round of antibiotics. Aside from
rosemary, all of the other essential oils showed antimicrobial activity against 27 isolates of the
bacteria. This study showed high potential in using sauce thyme and oregano in controlling this
infection in horses. The study may be reviewed here in more detail.
In 2018, a larger study on plant extracts in horse feed reviewed existing reports looking at
potential use in commercial feeds. A wide range of herbs and plants from ginger, licorice, to Aloe
vera have antioxidative properties. While the review found that extracts in diets may provide
benefits for stress-related and therapeutic benefits, more research is required to define the correct
dosage, timeframe and type of plant or extract for commercial and safe versions.
Which Oils to Use
If you want to experiment with some practical, natural and safe options,
Young Living Essential Oils are created to be used in the barn with a diffuser or topically to boost regular veterinary care and proper nutrition. The Young Living team and Pat & Linda Parelli have spent time researching how horses react to essential oils and the most effective way to use them. Young Living has a board of veterinarians who oversee animal product development.
Basic Barn Kit for Horses
If you are new to using natural choices for your horses' health, an essential (and free!) guide with recipes can be requested easily here. Learn to create safe and natural coat conditioner, mane and tail detangler, non-toxic fly sprays, and seasonal transition support recipes for your herd.
Keep essential oils on hand for daily use. Here are some of Mollie's go-to favorites that you can try!

Lavender
promotes general relaxation, use on minor cuts
reduces the tension of loading and trailering
Valor
balances energies
helps horses with unbalanced riders
great support for the spine
Peppermint & Peppermint Vitality
add to water in the summer to encourage drinking and cooling effects
use diluted in water for a cooling sponge bath after riding
great boost for fly spray
Thieves Household Cleaner
treatment for rain rot and scratches
boost your fly spray by adding to the mix
abscess soak solution 
non-toxic stall and bucket cleaner at shows or between horses
Where to Buy Quality Essential Oils
Need to purchase your essential starter kit or refresh your oil supply? >> Click here
Want to know more about how to use oils? Sign up for Mollie's Free Oils Mini Course using the popup at the bottom of this page!
ABOUT MOLLIE VACCO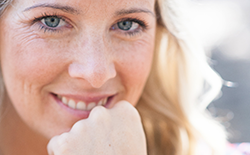 Certified health coach, with a focus on natural wellness and holistic modalities
Mom of three boys & wife
Licensed Parelli Instructor & horsewoman