When you decide to get pregnant it can be stressful, especially if you have a health history that may be working against you. Getting the extra support your body needs for conceiving can make all the difference. In today's article, we dive deeper into ways that essential oils for fertility can make this exciting journey easier. We're looking at how to select high-grade essential oils for the most benefit, which oils may be the most helpful for you.
How to select high-grade essential oils
When searching for really high quality oils, you should look for the following to be sure you get what you pay for. Look for the wording listed on the label. It should read "essential oil" instead of fragrance oil. Essential oils are distilled from plants grown for the sole purpose of creating concentrated oil that is measured and used in small drops.
Look for the common plant name as well as the plant's Latin name. Frequently, there are more than one type of plant under a common name and the Latin name will show the difference between them. If you are using essential oils for infertility, this can be important to note. A good company source understands this and will differentiate between the types for you.
Country of origin – Where is your oil grown? Occasionally the best place to source a plant is not in the US. Natural variations in field location, soil and climate will change the chemical composition accordingly. You may find that using a different source of oil changes the effectiveness when used. For a deep dive into this topic check out www.seedtoseal.com
Method of extraction. Again, do your homework. Only essential oils are created by using distillation and expression (for citrus oil). Steam distillation is a common process to create most essential oils.
Avoid oils listing Perfume or Fragrance on the label. This typically indicates a lesser quantity of the essential oil you want. These are usually much cheaper as they are mixed with an inexpensive carrier or of a synthetic composition, so that can be another indicator of a lower quality product.
Avoid junk in your oil. Things you won't find in Young Living Oils.
Tips for Using Essential Oils when Boosting Fertility
A variety of essential oils are believed to offer wellness benefits around fertility including mood stabilization (who doesn't need this!), reducing anxiety, improving relaxation and getting better sleep. There are a few identified here that may be the ones to try first when looking for support.
Clary Sage Oil – for harmonizing and balancing estrogen. Estrogen is needed for conception, so you may want to begin by diluting in a carrier oil for direct use on your skin. Clary sage oil has some anecdotal reports that cause uterine contractions, so please use cautiously if you are already pregnant.
Orange, Grapefruit and Lemon Oils – Chances are you have already used these to get a quick energy lift during the mid-afternoon blahs, but studies show that orange oil can be effective at lowering anxiety, so you may find that helpful to conceive. Experiment to see which of the three help to lower nausea. I recommend using a diffuser for using citrus oil.
Sandalwood Oil – A bit invasive to test, sandalwood has long been purported to have libido lifting properties in both men and women. You can use this in a diffuser to get the mood going or use combined with a carrier oil for a fantastic massage oil option.
Geranium Oil – A 2017 study has shown promising data that geranium oil may be helpful in the production of estrogen. It also assists with lowering anxiety and depression. When you go to try geranium oil, add it to a skin cream or a diffuser.
Ylang Ylang Oil – Believed to carry aphrodisiac boosting qualities and ease cramps, this oil can be used to create positive feelings and a better mental outlook in general while you wait to get pregnant. Use in a diffuser or incorporated in a cream or massage oil carrier.
Young Living also offers combined formulas that utilize their essential oils to make it super convenient for traveling and daily use. For the details on all of those options for endocrine support, check out Hormones for Her.
Products I LOVE that support fertility:
Endoflex – Direct support to the endocrine system.
Progessence Plus – Helps balance estrogen and progesterone. When I was having very heavy periods, this serum was key for me! A drop on your inner arm is all you need.
Ningxia Red – Daily supplement to aid in overall health and fertility. 
While we collectively wait for more research to be released around this important area of essential oils, try the oils above to balance your estrogen, get more sleep, get in the mood or to destress. You now know how to select a top quality essential oil and how to begin using them. Start with 6-8 drops in your diffuser and see how your body reacts. You might need a bit more or less. If applying to your skin, the normal recommendation is 1 drop of oil to 10-15 drops of carrier oil. You can use almond, coconut or grapeseed oils.
Even more resources!
Want personalized help in aligning your oil use with fertility? Contact me for safe options for success at mollie@mollievacco.com.
Join my Facebook Group for even more support and a positive mindset shift.
xo, Mollie
ABOUT MOLLIE VACCO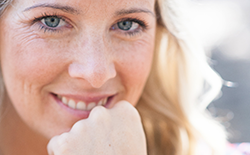 Certified health coach, with a focus on natural wellness and holistic modalities
Mom of three boys & wife
Licensed Parelli Instructor & horsewoman