Essential oil use has been around for centuries, starting as far back as Biblical times, and gaining popularity as a non-toxic, natural option to further support wellness in our horses and animals. Derived only from plants and frequently manufactured by distillation to extract oils, these powerful components are being studied by universities to understand better the properties and how we can use them in the barn, on ourselves and families. This article will show you several easy ways to mix and use essential oils for your favorite equines for natural pain relief, itch relief, coat conditioner, and tame anxiety.
Not listed in the recipes below is NingXia Red, an incredible immunity booster and energy booster. I love it to replenish a horse's energy levels after a big competition and trailering. NingXia Red is a superfood, rather than an essential oil, but can be used as part of a larger wellness program to support cellular function and whole-body health. If your horses are in demanding performance sports, I encourage you to try this. (Check your rulebook to avoid any surprises.)
Best Essential Oils for Your Horse's Pain Relief
Lavender – You've likely used lavender already, as it is a highly popular and proven ingredient for pain and stress relief. See my other articles that recommend lavender for additional uses.

Clove – Because of the high proportions of eugenol in clove oil, this is an arthritis relief option that supports joint function and healthy inflammatory responses. As clove can be irritating at full strength, I suggest using it diluted ina carrier oil or spray-on form. Combined with peppermint or wintergreen oil, you have a fantastic warming/cooling option for tired muscles or leg bracer after hard work or show day. Add it to a spray bottle and apply it directly to the legs. As this will not evaporate quickly, do not add a standing wrap over the top.
Wintergreen – Is another excellent all-purpose natural oil historically used for arthritis and tendonitis relief. Wintergreen's primary component is methyl salicylate, which, when metabolized, produces salicylic acid. Aspirin has the same active element when metabolized. Use caution when giving orally over long periods, especially if the horse is already on a bute regimen.
Copaiba – You can find Copaiba in the medical records back in the 1400s. High in beta-caryophyllene, copaiba has been studied and has shown positive results when used for pain reduction for many issues. Still available across Brazil commonly in the local pharmacy. 
Pain Relief for Horses – Recipe
To mix this yourself for the barn, take a small spray bottle and add the following ingredients:
6 drops lavender oil

6 drops wintergreen OR peppermint oil

1 capful of Thieves (contains clove oil) 

6 drops of Panaway

Optional – 3 drops of copaiba or oregano oil

Add enough witch hazel, distilled water or apple cider vinegar to fill the container. 
Shake gently and spray on muscles or legs. 
Using Essential Oils for Itch Relief in Horses 
Itching is always a big issue in a barn, whether you have one horse or several. Changing seasons, shedding, flies, and other stinging insects or very dry weather can do damage to manes and tails as well as creating uncomfortable horses and negative behaviors.

I love to mix up the following essential oil recipe to create fast, natural, and great smelling itch relief for our herd. It's also a great coat conditioner that produces loads of shine.

Frankencense – maintains radiant skin when used topically; this oil has 6 known key constituents and a woodsy, fresh smell.

Lavender oil – Yes, here as well for calming minor irritations
Melrose™ – (Melaleuca alternifolia, Rosemary, and Clove) – This blend is a cleanser for healthy skin.
Tea Tree oil – Known for helping to get rid of damaging skin bacteria on the surface and virus control for warts.  Tea Tree oil has ten known constituents with powerful properties.
Essential Oil Itch Relief for Horses – Recipe
Combine in a spray bottle to apply directly to your horse's coat. Rub in well with a soft cloth.
10 drops of lavender oil

10 drops of Tea Tree oil

10 drops of Melrose

10 drops of Frankincense oil
Add 2 Tablespoons of fractionated coconut oil. Add distilled water to fill the sprayer.
Essential Oils for Horse Coat Conditioners
You can try the above recipe or mix up this one, depending on the season. This version is especially great for manes and tails. I keep a version of this handy year-round for our horses for faster fairy knot removal and for tail rubbing. This is an easy recipe if you are newer to using essential oils on your horses as all of the elements are likely familiar.
Horse Coat Conditioner Essential Oil Recipe
Glass or plastic spray bottle

1 part vegetable glycerine (can use less if you want a smoother finish)

3 parts distilled water

15 drops Lavender oil

10 drops of Cedarwood oil

5 drops of Orange oil

5 drops of Rosemary oil

Mix gently and apply directly to manes and tails. Keep in a warm space during colder weather.
Reducing Stress Using Essential Oils in Horses
Last but not least, we look at using essential oils on our horses to eliminate anxiety and stress from training, showing, sales, or moving barns. We create all kinds of stressful situations unintentionally for our horses, so giving them a way to calm naturally is a kindness. 

Applying essential oils is a different process for stress. In this case, you want to add them in slowly and before the horse gets stressed. We do not want the horse to associate the smell with the negative situation. Applying a few drops in your hands and offering them to smell first while watching the animal's reaction. Remember, these are powerful, and his sense of smell is much more sensitive than yours. When you offer up the oils, you ideally want to see licking, sighing, closing of the eyes or dropping of the head and neck to indicate relaxation. Use before your event so that the horse learns to associate the oil with being highly relaxed, and then use after the competition to come down.

Frankincense – comes from distilling the resin of the boswellia carteri tree.
Chamomile – gives the body support with anxiety, anger, or nervousness. I like to apply it directly to the poll.
Bergamot – is terrific for this purpose but use carefully on pink skin as it has a photosensitive property. Super when combined with lavender to give highly relaxing results.
Valerian – comes from the Valerian root itself and offers a reconnection and grounding support. Fabulous when applied to the coronary bands and cannon bone areas.

I've given you so much to try with your horses in this article, and I'd love to hear how it's going! If you have any questions on how to get started or have questions about your first pass, please let me know how to help you on your journey!
xo, Mollie
ABOUT MOLLIE VACCO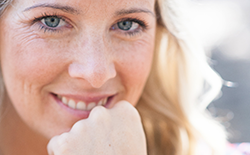 Certified health coach, with a focus on natural wellness and holistic modalities
Mom of three boys & wife
Licensed Parelli Instructor & horsewoman